Environmental impact
Whether it is sorting our recycling, planting wildflowers for bees or avoiding single use plastic, we all do our bit daily to minimise our impact on the environment. When this translates into the business of holiday homes, it means adopting more sustainable practices when sourcing materials, incorporating energy-efficient features and building with more consideration for the local habitat and its wildlife. With climate change and resource depletion at the forefront of the world's environmental worries, opting for a holiday home that has been built with these sustainability practices in mind is a must. Silverlake's eco holiday homes sit in a carefully converted ecological haven, with every element of holiday home ownership here built around a respect for the natural world. Materials are sourced with a circular economy and with minimum waste, and little touches like bee bricks, bat boxes and living roofs are incorporated to help to sustain the local Dorset wildlife.
Long term viability of your investment
The world's focus on sustainability will only sharpen as the years pass and resources continue to be depleted; investors and businesses who incorporate it into their plans early will create long-term viability for their projects. As part of Habitat Escapes' Habitat Zero pledge to deliver a carbon-neutral business by 2030, being environmentally responsible influences every element of the development of its luxury holiday homes. The Silverlake Estate is one of the only estates in the South West to have been awarded Building with Nature status, thanks to a sensitive approach to keeping nature in mind when developing and eco-friendly features like EV charging and air source heat pumps are installed with longevity in mind. These features not only reduce expenses in the short term, but also offer reassurance in the face of future regulatory changes that we're likely to see come into effect as governments tighten their grip on environmental regulations. When it comes to holiday homes in particular, considering factors such as energy efficiency and water conservation will also contribute to maintaining property value as the years go on.
Aligning with the expectations of your guests
Finding eco-friendly holiday accommodation has become a real point of consideration for holiday makers. Just as employees are increasingly attracted to companies that prioritise their environmental and social responsibilities, more of us are choosing to holiday in places that share our own sustainability values. In fact, according to Visit England, 58% of people would prefer to stay in a holiday home which adopts eco-friendly practices.
Keeping this in mind when purchasing a holiday home for sale in Dorset could have an immediate impact on the revenue generated by your investment. From the build materials to the eco-friendly extras, Silverlake's luxury holiday homes demonstrate responsible sustainability practices worth shouting about to potential guests.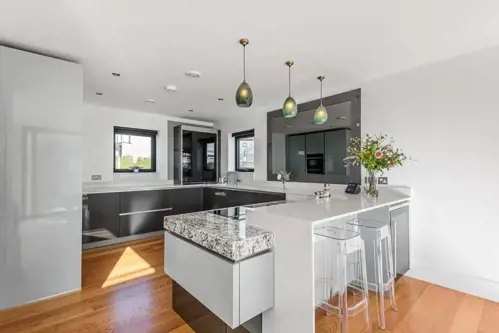 Acknowledging ethical considerations of a holiday home
Beyond the regulatory side of things, investing in a holiday home in Dorset enables you to make an ethically sound investment. By choosing a UK property over a foreign one, you are minimising your carbon footprint by choosing not to fly and with a train station just round the corner, Silverlake is easy to reach by green transport. By buying a holiday home in a purpose-built community, you are also avoiding taking property away from the local community, a fact that deemed very important in a recent Silverlake homeowner survey.  Overall, keeping sustainability in mind when making your holiday home purchase is essential not only for getting ahead of anticipated regulations that will impact property investors in years to come, but also for knowing you're doing your bit to protect the planet for future generations including your own family.
Once you have invested in a holiday home, here are three simple eco tips to keep in mind if you're looking to be a more sustainable homeowner:
Use LED light bulbs only
LED light bulbs last 25 times longer than incandescent and use around 75% less energy, so opt for them when lighting your holiday home.
Encourage your guests to use eco-mode
Today's clever appliances are equipped with the tools we need to make smarter choices for the environment even when we are doing the daily chores. Leave a note, politely asking your guests to choose the economy function on things like the washing machine or dishwasher where possible. It might mean a wash takes a little longer, but the water and energy saving is worth it and they can pass the time exploring the Silverlake Estate.
Stock up on eco-friendly cleaning products
Nowadays, eco-friendly cleaning products pack just as much punch as their chemical laden counterparts. Shun cleaning wipes and plastic spray bottles if you can, opting for refillable bottles and cleaning cloths instead.