Location, location, location

 
Think 'location, location, location' when buying a holiday home as an investment. The peak seasons sell themselves but by choosing the right holiday home for sale in Dorset you'll be all set to take advantage of year-round appeal.  
For most holidaymakers, having amenities on their doorstep is the main attraction. Rural locations are more appealing than ever as we look to incorporate hiking or cycling into our breaks, so choosing somewhere with lots of open space is a smart move. Having a plethora of activities for the kids at their fingertips without needing the car is a huge draw, as are places to eat and drink. More practical things like private parking are also a consideration, with people increasingly looking for EV charging too. Ticking as many of these boxes as possible is a great way to generate the best return on investment from your property. 
The Hurricane Terrace & Bar is family-friendly (and pup friendly too!) and the Estate has attractions for all ages, from country walks to paddleboarding, nature walks and fishing. There are children's play parks right on the doorstep as well as a whole host of activities to keep them amused and blow off some steam including bike rental, tennis and MUGA courts, a swimming pool, nature crafts and even your own private beach – have a look at all the activities on offer here.
The Estate's close proximity to highlight attractions like Durdle Door and Lulworth Cove, Chesil Beach, Studland Bay and lots more makes for plenty of fun family days out – have a look at our guides to the best beaches and dog friendly attractions for more inspiration. All of this adds up to an attractive investment property and a place you know will tick every box for your own family, as well as your guests.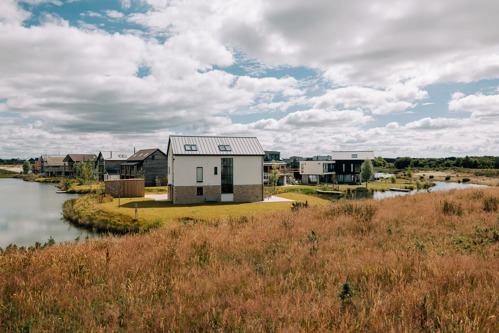 What you buy is as important as where
Just as important as choosing the right location for your holiday home is making sure the home itself is the right one. 
Silverlake's luxury properties bring various financial benefits. All holiday homes at Silverlake are self-build, with owners purchasing a freehold plot and build contract to bring thousands of pounds of tax savings. The Habitat Escapes on-site management agency makes it simple to holiday let your home too, so you can enjoy tax benefits that you otherwise wouldn't, had you opted for a buy-to-let property. They also take care of all the marketing and bookings making let your property easy and hassle-free.
When you build your own holiday home, you build the dream. The architects and designers behind Silverlake's holiday homes for sale in Dorset are award-winning, while the builders bring 25 years of experience. It's a combination that leads to unique designs that blend seamlessly with their surroundings and have sustainability at heart. You'll have a say on all the little details too, from the appliances used to the interior design.
Know your demographic 
It's important to know your demographic and market accordingly when you invest in a holiday home; are your potential guests young professionals seeking a romantic escape or will you aim to appeal to the profitable family holiday sector? Keeping this in mind when you choose a property will help you make sure it's the right one. If you're keen to attract couples for example, think about choosing a holiday home with eco-credentials, contemporary design and including a hot tub or ensuring pet friendly. Your guests at Silverlake Estate have exclusive access to the award-winning Hurricane Spa, not to mention the chance to do Pilates or yoga classes in picture-perfect surroundings, or just sit with a crisp glass of wine on the rooftop terrace, taking in the serene views across the Dorset countryside. 
On the flipside, families tend to have a more practical approach. Less time in the car, ease of keeping the kids entertained and cost are all likely to be big considerations, so keep this in mind when you are looking at holiday homes for sale in Dorset. Are there plenty of family-friendly activities nearby that don't cost the earth? Does the property have space for everyone to make themselves comfortable for a week, and can they bring the dog so that the whole family is included? 
Knowing how to market your holiday home for the best return on investment can be difficult and costly. As part of the Habitat Escapes homeowner service, we'll take care of attracting the right people to your investment property and keeping bookings coming to make sure it stays profitable. We can also take care of the maintenance side of things, from the little jobs like removing spiders and getting your holiday home looking its best when guests arrive, to bigger tasks like arranging the necessary services or refurbishments.