Green construction methods have gathered momentum in recent years, fuelled by the UK government's plans to achieve net zero emissions by 2050. With the construction industry responsible for 38% of carbon emissions globally, building projects must see a renewed focus on sustainability. While there are real benefits for the planet, there are also substantial savings to be had on the running costs of a holiday home. 
Silverlake's holiday homes for sale in Dorset are built with a green future in mind, but what does sustainability in property look like and why should investors make it a priority?
What is sustainability in property building?
Under the shadow of such considerable carbon emissions, the construction industry is making great strides in how it incorporates sustainability into building. According to the UK Green Building Council, construction, demolition and excavation account for an enormous 60% of material use and waste generation.
With the aim of getting this number down, construction companies are turning to a 'circular economy' of kinds, repurposing materials where possible to minimise waste, preserve raw materials and stride towards carbon reduction.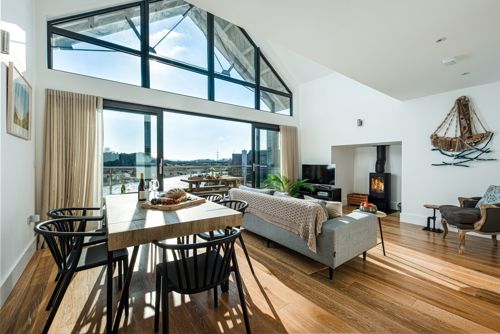 At Silverlake, we've created a 'carbon neutral build' principle. As many materials as possible are sourced locally, we use renewable timbers and all of our holiday homes feature air-source heat pumps as standard. It's an approach that has seen our luxury lakeside estate awarded excellent status for green infrastructure by the Building with Nature accreditation scheme. 
Why is sustainability in property important?
Sustainability in property is important for various reasons. Firstly, we're regularly reminded of the effect global warming is having on the planet. As the world seeks to shrink its carbon footprint in a quest to reach net zero, introducing sustainability principles into building property can make a real difference.
For investors looking to add a holiday home to their portfolio, choosing a property built with the environment in mind is a means of future-proofing an investment; as the eco conversation gets louder in years to come, demand for eco-friendly holidays will only increase as people look to lower their carbon footprint by flying less and choosing more sustainable accommodation. 
From a financial perspective, choosing an eco-holiday home can see substantial savings at a time when energy prices are soaring. When it comes to resale, the indications show that properties with energy-efficient features are only set to become even more coveted. 
What sustainable features add value to a property?

 
Sustainable features are no longer seen as a niche and their range stretches way beyond the traditional solar panels. Smart thermostats have become almost standard in new-build properties and they do a great job of keeping you on your toes in terms of energy usage.
The properties at Silverlake are built with energy efficiency in mind, combining structurally insulated panels and air source heat pumps to help with heating and cooling to lower energy usage and wastage.
Finally, as we move towards a future of electric vehicles, EV charging points have become one of the most requested eco features in a holiday home. Electric vehicle sales were up 54% in 2022 and easy charging looks set to become a non-negotiable for their owners. That's why at Silverlake, EV charging stations come as standard with homes built from 2022.
These features all contribute to the sustainability and value of a property - check out the full specifications of our electric houses to find out more.
Heat pumps
Solar panels
Wall insulation
EV charging point
Smart heating
Aluminium windows and doors
Permeable driveway
A-rated appliances
If you're planning on investing in a holiday home in Dorset, it pays to acquire a property with sustainability in mind. Beyond the moral justifications of working towards a carbon-free future, prioritising an eco-build makes strong financial sense in a changing world. Silverlake and Habitat First Group are committed to becoming a carbon neutral business by 2030, for more information on our ambition visit Habitat Zero.
Find out more about our sustainable homes by contacting our property team.