Ease of travel
If you're planning to invest in a holiday let, location is key. With low-cost flights sparse since the pandemic, even European destinations can be a costly endeavour to reach multiple times a year. Factor in extra time for airport security queues and transfers at the other end, and you might find that getting to your holiday home is both more expensive and more difficult than anticipated.
Don't forget to consider ease of travel for your paying guests too; venture too far from the beaten path and the extra travel time and costs might put them off.
Silverlake's holiday homes for sale in Dorset are set in a serene private estate just a stone's throw from the Jurassic Coast. It's located less than a mile away from Moreton railway station, so you can leave the hustle and bustle of urban life behind and be submerged in nature in just 2.5 hours from London. And once you're here, the central location makes it easy to explore pretty shingle beaches, quaint villages and coastal towns.
Avoid hidden costs
There are attractive tax benefits to buying a holiday home in the UK, from mortgage relief to offsetting any home improvements against your capital gains tax bill should you come to sell. Substantial stamp duty savings can be enjoyed too; invest in a holiday home at Silverlake and you'll be purchasing a freehold plot, meaning a much lower tax bill compared to buying a ready-made home.
Investing in a property abroad, however, muddies the waters on the financial front. Depending on where the potential property is located, you may find there are local purchase taxes to pay. And while any foreign tax on letting income can be deducted from your UK tax bill, it does make the process of getting your tax affairs in order each year a little more complicated. Other hidden costs can see expensive international bank transfer fees at the purchase stage.
A more manageable climate
Some might say that the great British weather is reason in itself to choose a holiday home abroad, but we'd argue just the opposite. If you enjoy active holidays, with your days filled with coastal hikes, kayaking, bike riding and exploring all the local area has to offer, stifling temperatures can prove tricky. By comparison, the UK's seasonal climate lends itself perfectly to adventurous days on the Jurassic Coast.
The Silverlake lakeside Estate, and Dorset itself, are beautiful in all weathers too, so you can expect a steady stream of revenue from holiday letting even outside of the peak summer season.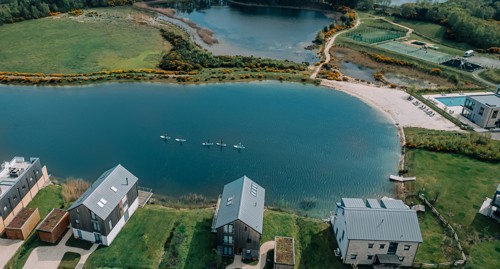 Ease of ownership
Running your holiday home as a holiday let has the potential to generate substantial revenue and with the right management arrangements in place, it can quite easily become a passive income stream. As the official holiday rental company for Silverlake in Dorset, Habitat Escapes offers a full-service package.  
From guest booking management to day-to-day maintenance and housekeeping between guests; this is holiday home ownership without the hassle. Habitat Escapes can even offer deep cleaning ahead of busy periods, keep stoves serviced and deliver logs for cosy nights in. They are also able to help avoid costly call-out charges by offering a maintenance service for little things like a niggly cupboard door or wall mounting to larger jobs such as refurbishment works.
By comparison, investing in a holiday home abroad can present its own problems, from navigating language barriers and time differences to finding yourself at the mercy of unpredictable exchange rates when it comes to paying for repairs and maintenance in the local currency.
Help reinvest in the local community
Buying a holiday home for sale in Dorset presents the opportunity to reinvest in the local community and to share in that sense of community too. Invest in a Silverlake property and you will play your part in the Silverlake Conservation and Community Fund, a partnership with Dorset Council, Dorset Natural Environment Team and Habitat First to fund nature conservation and community projects.
Opting to invest in Dorset rather than abroad also helps bolster a more local economy too, through spending in local shops and restaurants.